Losing a tooth is possible at any point in our lives. It could be due to various reasons, such as congenital loss, dental decay, trauma, or gum disease. However, it is possible to replace one or more missing teeth through dental bridges. Dental bridges can help fill up the missing space with a pontic/false tooth for esthetic as well as for functional needs.
What is a dental bridge?
A dental bridge is an appliance that helps replace a missing tooth. It includes three parts: a pontic or false tooth that replaces the missing tooth and two crowns that take support from the adjoining teeth on either side. This appliance as a whole is cemented to the adjacent teeth known as abutment teeth. It is cemented in a way that makes it long-lasting and cannot be removed by the patient. 
What are the different types of Dental Bridges?
There can be four types of dental bridges according to the type of application and suitability:
Traditional Dental Bridge: This type of bridge has been in use for a long time and is quite commonly recommended. Here the bridge includes dental crowns that adhere to both the adjacent teeth, having the pontic tooth in between. This makes the appliance quite strong and long-lasting. However, there may be a need to modify the surrounding teeth depending on their structure. 
Cantilever Dental Bridge: The difference between Traditional Dental Bridge and Cantilever Dental Bridge is the fact that in Cantilever Bridge there is a need for only one anchor tooth, instead of two on either side of the gap. This type of system is advised when there is only a single abutment tooth available on one side of the missing tooth. Also, this type of bridge is mostly recommended for the front teeth, instead of the back of the mouth. Since the stress is on a single tooth, it cannot bear too many forces and is more esthetic than functional. It is a great option in limited situations. 
Resin-bonded Bridge/Maryland Bridge: The appliance and the process is very similar to Traditional Dental Bridge, except for a minor difference. In the case of Maryland Bonded Bridge, instead of dental crowns, a wing-like metal extension is used as an anchor. This framework is bonded to the back of the abutment teeth with the help of resin cement. In this case, there is no need to significantly modify the adjacent teeth. This application is done majorly in the case of front teeth. Even though the adjacent teeth need not be modified and the structure of the teeth is conserved, there are possibilities of de-bonding. 
Implant-supported Bridge: This bridge uses the same structure as traditional bridges but there is no requirement of anchoring to adjacent teeth. These are anchored through dental implants. Since there is no need for adjacent teeth, this process may be used when multiple teeth are missing and there are large gaps. Implants are durable, strong, and long-lasting with great functionality of the pontic tooth. The procedure is lengthier than the rest of the processes and needs a considerable recovery period. 
How to select the right type of bridge for missing teeth? 
Only a dentist can identify the right candidate for dental bridges. For this, the dentist will first perform an oral examination, complete with a comprehensive set of x-rays and study models. The decision to do a bridge is made based on the location of the missing tooth and the condition of the adjacent teeth which act as an anchor. There may also be a need for a CBCT Scan to understand the condition of the underlying structure. The type of bridge to be selected depends on the comprehensive evaluation conducted by the dentist. Each bridge system has its pros and cons and only a dentist can advise the right type of dental bridge. 
How long can dental bridges last?
The selection of a good dentist is very crucial. A good dentist will select the best quality dental bridges and will perform the procedure with good diligence and care. But to ensure durability, maintenance of oral hygiene is of paramount importance as well. With an able dentist performing the procedure and with good hygiene maintenance, most bridges can last between 8 to 10 years.
What are ways to take care of dental bridges?
Oral hygiene plays a crucial role in the durability of dental bridges. Standard oral hygiene practices performed with due diligence can ensure a good life for dental bridges and the rest of the teeth as well. 
Brushing and flossing after every meal is important. This will ensure that no food remains lodged around the bridge. Lodged food particles can cause the gums and teeth to become inflamed resulting in bone loss in the long run. This can damage the dental bridge.
Brushing with a good toothpaste and soft toothbrush is important. Harsh toothpastes or hard toothbrushes can damage the surface of the pontic tooth and the bridge, as well as the supporting teeth.
Flossing twice a day is much needed. Floss threaders can reach areas underneath the bridge to clean the difficult-to-reach areas.
Sugar and starch are not teeth-friendly and minimizing their consumption helps ensure the longevity of dental bridges as well. Similarly sticky food that can cause plaque build-up need to be avoided as well.
Brushing after snacking is recommended.
Regular visits to the dentist is very important to monitor and maintain the health of dental bridges.
With proper care and case selection, dental bridges can have a great long-term prognosis.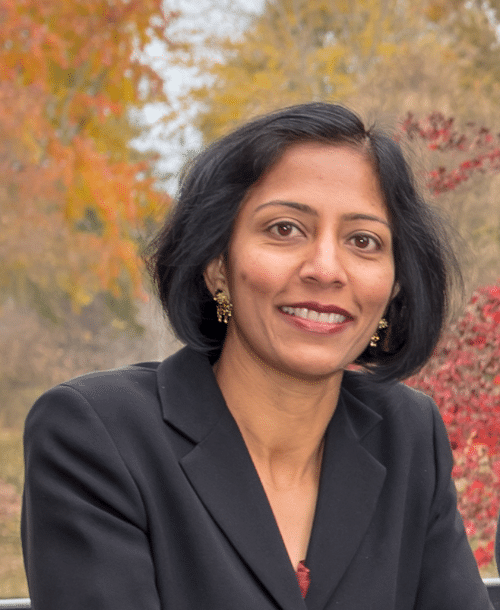 Dr. Smita Warrier graduated dental school in 2004 from Tufts University in Boston. She relocated to Charlotte shortly after and started her practice in Ballantyne in 2007. She is very passionate about dentistry and providing top-notch care to her patients. She is a member of the American Dental Association as well as local and state dental organizations. She feels very strongly about staying abreast of the latest technologies and treatment care modalities and dedicates many hours in continuing education. She has been an Invisalign certified provider since 2006.
In her spare time, she likes to run, bike, hike and read. She has done countless half-marathons and several half Ironmans. You can usually find her on the weekends running at the greenway or hiking up in the mountains of beautiful North Carolina with her husband and two boys.