When your dentist recommends a dental crown, there are quite a few questions that may come up in your mind:
Do I really need dental crowns?
What is the cost of dental crowns?
What type of dental crowns is best for me?
How long will the crowns last?
Dental crowns have long been considered a solution to restore the look and function of a damaged tooth. These tooth-shaped caps can help restore your teeth and improve your smile. This article will help you understand the basics of the crowns and how you can get the best possible crown for your damaged tooth.
Do you really need a crown?
There are several different types of crowns available in the market. Varying in cost and the variety of material used, how can you make sure if you need a crown, an inlay, an onlay, or can just do with a filling?
When you visit your dentist for your regular or an emergency check-up, your dentist should be able to assess and guide you about the extent of work required on your teeth. Generally speaking, some of the most common causes when a dentist would recommend a crown are:
To protect a weakened tooth after severe decay or cavity
To cover a dental implant
To replace a filling with a comparatively large surface area
To safeguard a damaged or cracked natural tooth
To cover a tooth (especially posterior teeth) that has undergone a root canal/endodontic treatment
To align and correct your bite
For aesthetic purposes to level the size, shape, and color of your teeth.
How is a crown fixed?
In most cases, a dentist recommends you select a custom-made crown, which requires you to visit your dentist a couple of times. Although, some dentists have CEREC or similar device that allows patients to get a crown in a single visit.
First, the dentist prepares your tooth. This could involve removal of the decay, or root canal treatment, or both. Then a mold is placed to take the measurement, so your crown fits the exact shape of your tooth. Then a temporary restoration is used to protect the tooth till the crown is ready. This temporary cap needs extra care to prevent any cracking or damage till your actual crown is ready. When your crown is ready, your dentist asks you to come for a trial fitting and check your bite. Within a few trials, mostly on the same day itself, the crown is affixed to your restored/ preserved tooth. 
What is the cost of the dental crown?
The cost of the dental crown depends on the materials used and the preparation required. For example, porcelain crowns are more expensive than metal crowns. Furthermore, in some dental cases, a core build-up and other procedures like gingivectomy ( a minor gum surgery where parts of the gums are cut away) or a root canal treatment is required to help protect and maintain the integrity and structure of the tooth before a crown could seal the deal.
Dental crowns could range from $500 to $2000 or more. The price range also depends on whether or not you have insurance or what your insurance policy covers. If you need add-on procedures to complete the treatment, the cost scales up. You could opt for low-cost resin crowns, but it is not a long-term solution as durability is not high.
Insurance would cover about 50% of the cost of the crown, depending on the type of insurance cover. All insurance companies cover preventive crown treatments, but they may not be covered if the crown is part of a cosmetic treatment.
What are the types of dental crowns available?
Unlike a few decades ago, when non-reactive metals like gold and silver were the only options for dental crowns, there are many different types of crowns available in a variety of materials. The cost, time taken in the procedure, and of course, the patient's unique needs determine the type of crown suitable for them. 
Some of the most common types of crowns used in dentistry include:
Gold Crowns
Gold crowns are not made of pure gold but are actually alloys of gold, copper, and other metals such as nickel and chromium. Gold crowns are known for their strength and durability. Gold crowns are ideal for back restorations. But due to color and aesthetics, gold crowns are not widely preferred. 
Some advantages of gold crowns at a glance:
They are strong and highly resistant
They are long-lasting if properly cared for
They are very malleable, so a very small portion of the natural tooth needs to be removed.
They behave similar to natural enamel and wear down very slowly.
They are ideal for back teeth, especially second molars.
Gold crowns do have some drawbacks, and as a result, they are not very popular these days
 They are not aesthetically pleasing and stand out 
Some people might be allergic to gold alloy crowns, and it does have side effects and swelling.
All Porcelain Crowns
Porcelain crowns are one of the most popular types of crown used these days. They are entirely made of porcelain, and the color is matched to perfection with the color of your teeth. Porcelain crowns can be used in both front and back teeth, and they are completely inconspicuous in their appearance because they match the surrounding teeth in shape, size, and color.
Some advantages of porcelain crowns
They provide the best and most natural look possible
They are the best option for front teeth restorations
They are non-toxic and biocompatible because there is no metal used.
Some disadvantages need to be considered before opting for porcelain crowns
They are not as strong as metal crowns
They can last a long time only if they are well taken care of- heavy chewers may risk cracking them prematurely.
Not suitable for patients suffering from bruxism*. 
*Bruxism is a condition in which you grind, gnash or clench your teeth. If you have bruxism, you may unconsciously clench your teeth when you're awake (awake bruxism) or clench or grind them during sleep (sleep bruxism). Sleep bruxism is considered a sleep-related movement disorder- Mayoclinc.org
They are costlier than metal crowns.
PFM Crowns- Porcelain Fused-to-Metal Crowns
PFM crowns merge the strength of the metal crowns and aesthetics of porcelain crowns to create a reinforced porcelain crown. These are very widely used crowns as they provide both strength (due to their metal structure) and aesthetics( due to the porcelain coat that covers the cap).
Obviously, PFM crowns have the edge over other crowns:
They provide durability and great aesthetics
They have been used for over 50 years now, proving their applicability in all types of crown cases
They are less costlier than all-porcelain crowns.
However, there are some disadvantages of PFMs. These include:
The metal lining in the crowns could leave a grey line around the gumline. Therefore the aesthetic look that all-porcelain crowns provide is missing in PFM crowns to some extent.
Bruxism patients clench their teeth could wear down these crowns very quickly against the opposing teeth.
Zirconia crowns
As the name suggests, these crowns are made of Zirconium, a relatively new material. Zirconium is known for its strength and luminary qualities. This material combines the strength of metal and the aesthetics of porcelain crowns. Highly translucent zirconia and even layered zirconia crowns have become a very popular choice lately.
There are several advantages of zirconia crowns.
Great aesthetics
Solid and long-lasting with fewer chances of chipping or breaking off
Relatively less time-consuming – zirconia can be cut and shaped on the spot. Therefore minor adjustments can be made at your dentist's rather than resending them over to a dental lab.
They are long-lasting and don't wear down quickly.
They are metal-free, biocompatible crowns, so fewer chances of allergies.
However, as with other materials, zirconia crowns do have some drawbacks
Their strength could be harmful to the teeth they bite against, as they could wear down easily
Solid zirconia can be complex and challenging to adjust to your tooth shape and bite design.
Emax- Lithium Disilicate Crowns
E-Max is the latest type of crown in dentistry. The all-ceramic crowns made of lithium disilicate, a very light and thin material, are strong, aesthetically pleasing, and durable.
There are several advantages of E-Max crowns
Great aesthetics
Durable and very strong
Great choice for both front and back teeth.
There are disadvantages too
E-Max is more expensive
E-Max has not been found suitable for posterior teeth, especially when multiple units were involved.
Can dental crowns cause any problem?
Dental crowns are a completely safe and non-invasive treatment for most patients needing additional protection. However, there are certain issues that patients might experience over time. These are
Discomfort/sensitivity
Since a considerable portion of the tooth is chipped off to make sure the dental crown fits, the tooth is exposed. If the nerve is exposed in the crown tooth, it could lead to heat and cold sensitivity. If the pain and sensitivity persist, it could mean that your crown is too high on the tooth. Your dentist can easily fix this problem.
Chipping
 Crowns made of certain materials could chip off more easily than the rest. Smaller chips can be repaired while the crown is still fixed on your tooth, but for larger cracks or more chips, the dental crown may need to be replaced.
Loose crown 
The cement holding the crown on the tooth could wash out from under the crown. This could make the crown become loose, and bacteria and food particles could also leak in, causing decay to the tooth that remains. You must contact your dentist if your crown feels loose.
Falling Crown
A dental crown could fall off due to improper fit or lack of holding cement.If you contact your dentist, they may be able to re-cement the crown back in its place. If the crown is unfit for refixing, you may have to get a new crown. 
Allergic reaction
Some patients might develop allergies due to the metals used to make the crown or the material used for fixing it. Although it is extremely rare, make sure you do not have an allergy to any material being used and inform your dentist in advance. 
Dark line on crowned tooth next to the gum line:
A dark line next to the gum-line of your crowned tooth is perfectly normal, particularly in the case of the porcelain-fused-to-metal crown. This is nothing but the metal part of the crown showing through the porcelain coating. The gum also may need to be pushed back to allow the crown to fit perfectly.
Does a crowned tooth require any special care?
A crown tooth does not require any special care. However, the tooth beneath the crown needs to be protected from decay or gum disease. Continue with good oral hygiene practices including brushing your teeth twice daily and flossing once a day. The crown/bridge flossing can also be done, either by yourself or during your regular dental visits. Avoiding hard-biting surfaces if you have a porcelain crown could prevent cracking and make the crowns last longer.
Crown Procedures are Essential for Protection and Pain Prevention
A crown procedure may feel expensive and time-consuming, but a crown relieves tooth pain and protects a damaged tooth. Your dental professional will ensure you get the best advice and the perfect crown. According to the American  Dental Association, if your tooth can not hold a large filling or you need to protect a wider area, your crown can do it for you.
It can be quite overwhelming with all the options for dental crowns and difficult to understand what exactly you need. That is why the experts at Warrier Family Dentistry in Charlotte, North Carolina are here to help. We always welcome your questions and are eager to spend time discussing what dental crown option is right for you. Contact us today to set up an appointment!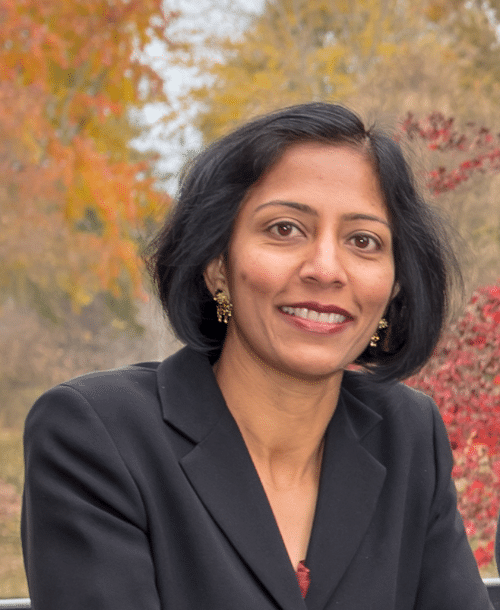 Dr. Smita Warrier graduated dental school in 2004 from Tufts University in Boston. She relocated to Charlotte shortly after and started her practice in Ballantyne in 2007. She is very passionate about dentistry and providing top-notch care to her patients. She is a member of the American Dental Association as well as local and state dental organizations. She feels very strongly about staying abreast of the latest technologies and treatment care modalities and dedicates many hours in continuing education. She has been an Invisalign certified provider since 2006.
In her spare time, she likes to run, bike, hike and read. She has done countless half-marathons and several half Ironmans. You can usually find her on the weekends running at the greenway or hiking up in the mountains of beautiful North Carolina with her husband and two boys.